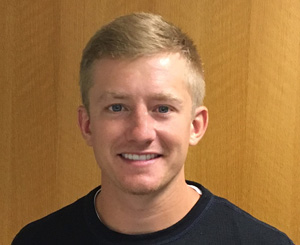 KS Associates welcomes the newest member of our Survey Group, Alex Zorij.
Alex has four years of field surveying experience and has worked on numerous residential subdivisions, commercial developments, and industrial projects. He was drawn to KS because of his interest in working on large, complex projects and advancing his knowledge of surveying technology, including 3D laser scanning. 
"Alex will work side-by-side with our five experienced survey crew chiefs who, collectively, have nearly 100 years of surveying experience. Alex's energy, passion for surveying, and solid grasp of surveying methods and technology will help him quickly understand 'the KS Way' and the needs of our clients," said Mark Yeager, P.S., KS Associates Director of Surveying Services.
Alex has an Associate of Science Degree from Cuyahoga Community College (Tri-C). He is originally from Brunswick, Ohio, and currently resides in Lakewood. He enjoys having access to Cleveland's many eateries and night spots, and of course easy access to Cleveland Cavaliers, Indians, and Browns games.
Alex loves the outdoors. He enjoys mountain biking, and fishing in Lake Erie and the Rocky River. He also spends his free time playing his acoustic guitar and participating in jam sessions with friends.
Welcome Alex! We're glad you're on board.