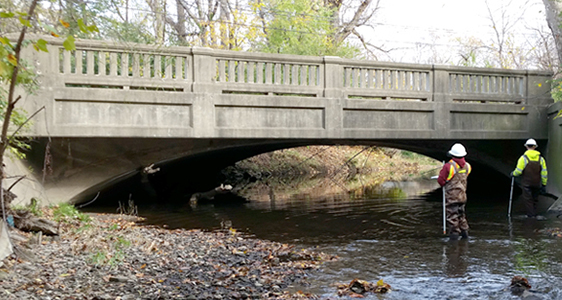 KS Associates was among the presenting companies at the 2020 Virtual County Engineers Association of Ohio (CEAO) Bridge Conference. The two-day conference took place online on Wednesday and Thursday, August 12-13. Hamid Homaee, P.E., a principal at KS Associates, presented an informative session entitled, "The Rehabilitation and partial replacement of Two Filled Concrete Arch Bridges: CUY SR 014 06.20 and 06.70, ODOT District 12, Cuyahoga County, Ohio." Hamid's presentation was scheduled for 2:25 p.m. on day one, Wednesday, August 12.
The two structures are single-span filled concrete arch bridges, approximately one-half mile apart, carrying four lanes of Broadway Avenue (SR 14) over Mill Creek in the Garfield Park Reservation, Garfield Heights, Ohio. The bridges were constructed in 1917 and were widened to accommodate sidewalks in 1934. The bridges are within an environmentally sensitive park setting within the Mill Creek floodplain. KS's bridge team performed an inspection, structural evaluation, alternative analysis, environmental studies, and hydraulic and scour analysis to develop a program to partially replace the bridges while saving the arches and abutments. This major rehabilitation alternative was selected by ODOT District 12 and was presented at a public meeting. The concrete arch bridges are under construction and are on track to be completed in late summer of 2020.
Hamid shared with attendees the design challenges that the arch bridges presented including proper 3D modeling to accurately apply loading conditions for each construction stage and to maintain traffic during construction. He discussed how the design team implemented a context-sensitive design to accommodate the environmentally sensitive location of the bridges, and incorporated aesthetics and stakeholder requirements.
About the County Engineers Association of Ohio (CEAO):
Since 1940, the County Engineers Association of Ohio (CEAO) has worked to unify its members in providing the highest quality transportation, drainage, surveying, and land record keeping services. From the safe and efficient movement of people, goods, and services to continuing land development needs, CEAO strives to construct solutions for many challenges to Ohio's local infrastructure. For more information about the CEAO organization and its annual Bridge Conference, go to http://www.ceao.org.