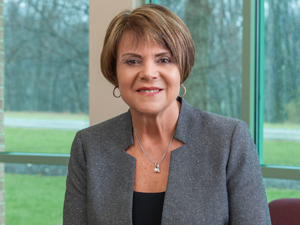 Lynn S. Miggins, P.E., president of KS Associates, is the recipient of the annual WTS Northeast Ohio Leadership Award. This award was established to recognize and honor individuals who have exhibited outstanding leadership in the transportation community by promoting the advancement of women in transportation.
According to Joanne Shaner, president of WTS Northeast Ohio, "Lynn was selected because she has spent her entire career as a role model for other women. She founded and is the top executive at KS Associates, a successful engineering firm that gives women equal opportunities to participate in transportation projects that are vital to the local economy and to our communities."
Miggins is a prominent, hands-on Professional Engineer and business owner with nearly 40 years of experience in civil engineering, including transportation engineering. In addition to leading KS Associates, she serves as City Engineer for the City of Vermilion, where she oversees public works projects, including roadway, bridge, and traffic improvements. She also serves on the Board and is Past President of the American Council of Engineering Companies of Ohio, which aims to improve the regulatory climate and business practices of private engineering companies so that they may provide high-quality professional services to their clients.
Miggins' volunteer board positions including University of Akron Women in Engineering Advisory Council, and University Hospital Elyria Medical Center. A resident of Vermilion, Ohio, Lynn is an active member of the Vermilion Rotary Club, an international organization comprised of business and community leaders who provide humanitarian services locally and throughout the world.
Miggins was named 2015 "Outstanding Civil Engineer of the Year" by the Cleveland Section of American Society of Civil Engineers. In 2013 she received a "Women of Achievement" award from the Elyria YWCA for her leadership and professional accomplishments. In 2012 she was inducted into the Cleveland Engineering Society Hall of Fame – the highest award given to an individual by the Society.
About WTS:
WTS is a national organization dedicated to building the future of transportation through the global advancement of women. Boasting more than 6,500 members — both women and men — WTS is helping women find opportunity and recognition in the transportation industry. Through its professional activities, networking opportunities, and unparalleled access to industry and government leaders, WTS is turning the glass ceiling into a career portal.