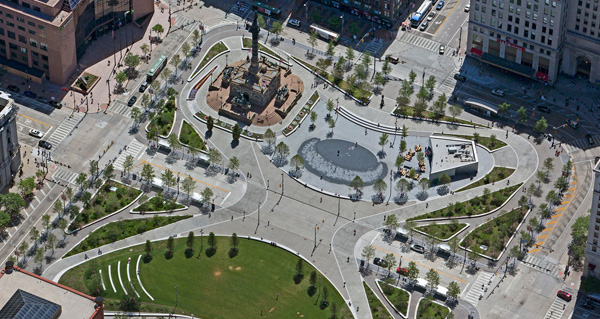 KS Associates has won an Outstanding Achievement Award in the 2017 ACEC of Ohio Engineering Excellence Awards competition. KS Associates' entry, "Surveying for the Redesign and Reconstruction of Cleveland Public Square," was recognized for demonstrating a high degree of uniqueness, ingenuity, and value. This $42.7 million project unified the four quadrants of Cleveland Public Square to create six acres of pedestrian-friendly civic space in the heart of Downtown Cleveland.
In 2014, KS Associates provided a comprehensive, 10-acre topographic survey of the square, under contact with architectural firm James Corner Field Operations (JCFO). For this survey, KS Associates used 3D laser scanning and conventional field surveying to provide the design team with a detailed digital map of the existing site. In April 2015, construction management firm Donley's, Inc. hired KS Associates to provide surveying during construction. Surveyors worked under immense pressure to coordinate work among numerous contractors. Surveyors pinpointed the locations of where each element of the square would be installed. From sections of pre-cast concrete that had to precisely fit together to form permanent bench seating walls, to utilities, trees, site grading, and pavement, KS Associates helped keep the project on schedule.
According to Mark A. Yeager, P.S., KS Associates' director of surveying services, "Surveying Cleveland Public Square was an enormously complex project, particularly during construction. Multiple contractors were on site simultaneously during the various phases of construction. A constant progression of construction required multiple survey crews to work six to seven days each week. Oftentimes, surveyors were working with up to eight different contractors at the same time to stay ahead of the construction activities and schedules."
On June 30, 2016, Cleveland Public Square was officially rededicated and opened to the public – just in time for the Republican National Convention in July 2016. According to Yeager, "Communication, coordination, and understanding how the project came together during construction were critical success factors. These attributes of the KS survey team helped to ensure the project was completed on schedule. KS Associates is proud to have been part of this chapter of Cleveland Public Square history."
Congratulations to our friends and teaming partners who also won awards in the competition. To see who else won, visit the 2017 ACEC Engineering Excellence Awards Program.
About ACEC of Ohio:
The American Council of Engineering Companies (ACEC) of Ohio is a statewide, non-profit organization comprised of member firms that provide engineering services for all types of construction and environmental improvement projects. The organization's mission is to enhance the economic and regulatory climate for private engineering companies and assist member companies in improving their business management practices so that they may provide high-quality professional services to their clients. For more information visit: www.acecohio.org.