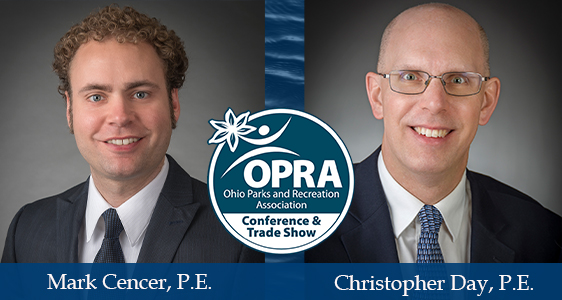 KS Associates has been selected to be among the presenters at the 2021 Ohio Parks and Recreation Association (OPRA) Conference. Pending developments related to the COVID-19 pandemic, the event is anticipated to be held April 26-29, 2021, at the Kalahari Convention Center in Sandusky, Ohio.
On Thursday, April 29, at 8:30 a.m., KS Coastal Engineers Mark Cencer, P.E., and Christopher Day, P.E., will deliver a presentation entitled, "Protecting Park Infrastructure Amid High Lake Levels." With the recent record breaking Lake Erie water levels, parks and recreation professionals are contending with issues threatening waterfront infrastructure. Mark and Christopher will present water level data, explain the conditions that influence Great Lakes water levels, provide insight into water level forecasts, and share techniques for protecting park infrastructure.
Using examples of recently completed projects at Ohio parks, Mark and Christopher will explain the steps to improve and protect your park's waterfront.
KS Associates is also planning to be among the exhibitors. If the show goes on, members of our team will be available to share their insights into what it takes to fund, design, build, and maintain waterfront facilities. We're looking forward to taking part in this event! Check back for updates about the status of the event.
About the Ohio Parks and Recreation Association (OPRA):
Ohio Parks and Recreation Association (OPRA) is a non-profit, public interest organization. The association represents professionals and citizen board members striving to provide quality park and recreational facilities for Ohioans while protecting and preserving Ohio's natural resources. OPRA's mission is to advance parks and recreation services through networking, education, training and advocacy, thereby enhancing the quality of life for the communities it represents. For more information about OPRA go to: www.opraonline.org.