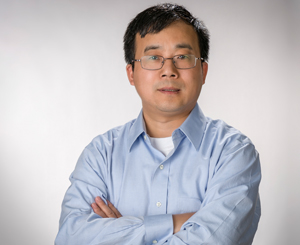 KS Associates is pleased to announce that Robert Yin, P.E., has joined the firm as Bridge Group Leader of the KS Transportation Group. Robert brings 22 years of bridge engineering and structural project management experience to our team. He is responsible for leading bridge design and inspection projects and will work directly with our transportation clients including the Ohio Department of Transportation (ODOT), the Ohio Turnpike and Infrastructure Commission (OTIC), transit authorities, port authorities, county engineer offices, and municipalities throughout Ohio.
"Robert's technical proficiency and professional experience perfectly align with KS Associates' mission of delivering well-managed, well-designed projects that exceed our clients' expectations and ultimately provide safe and efficient travel for our communities," said Hamid V. Homaee, P.E., Principal at KS Associates.
Robert has a diverse background, specializing in the management, design, analysis, and inspection of bridges of all types, including railroad, curved steel girder, timber truss, bascule, covered, and suspension bridges. He is pre-qualified by ODOT for Bridge Design Level II and the highest level of bridge inspection. Robert has recently led bridge projects in Ohio including the complete deck replacement and rehabilitation of Pearl Road (U.S. 42) over the Ohio Turnpike for OTIC, and the total replacement of the multi-span bridge carrying S.R. 150 over Short Creek in Jefferson County for ODOT District 11. He has had key roles on high-profile projects including the design of the Voinovich Pedestrian Bascule Bridge for the City of Cleveland, lighting upgrades to Cleveland's landmark Veterans Memorial Bridge for Cuyahoga County Department of Public Works, and the replacement of the Dodd Road Bridge over Chagrin River for the City of Willoughby Hills.
Robert is Professional Engineer licensed in eight states including Ohio, Pennsylvania, and Michigan. He has a Master of Science degree in Civil Engineering from Case Western Reserve University and a Bachelor of Science degree in Structural Engineering from Tsinghua University in China. Robert is a member of the Northeast Ohio Chapter of the Association for Bridge Construction and Design.