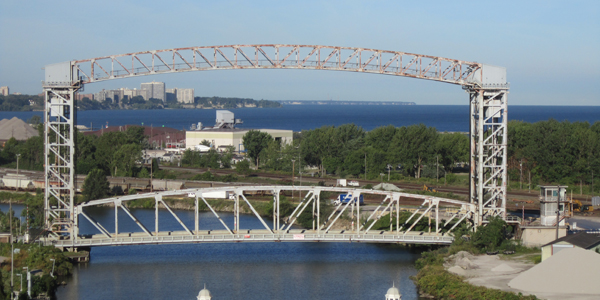 KS Associates provided engineering services for the inspection of five moveable bridges along the Cuyahoga River for the City of Cleveland: Willow Avenue Vertical Lift Bridge, Center Street Swing Bridge, W. 3rd Street Lift Bridge, Carter Road Lift Bridge, and Eagle Avenue Lift Bridge.
During field inspections of the 53-year-old Willow Avenue Lift Bridge, KS Associates verified a report noting that the integrity of two of the ten main wire counterweight ropes were compromised and had exceeded their useful life. The underlying metal wires and strands comprising the ropes were experiencing severe corrosion, posing potential safety issues to the public and to the bridge structure. KS Associates' findings were recorded in an in-depth inspection report as per the City of Cleveland, ODOT guidelines, and NBIS reporting requirements.
The City of Cleveland authorized KS Associates to design a solution and develop plans, specifications, and cost estimates to replace all of the counterweight ropes. KS's scope of work included performing geometric calculations, designing temporary and permanent support systems, and developing a jacking method for bearings and cable connections.
The KS team, comprised of mechanical and structural engineers, worked closely with the City and ODOT to develop construction documents. KS Associates provided a separate construction document to order cables and have them manufactured in advance to meet the schedule.
Design is complete. Construction anticipated to be complete in February 2018