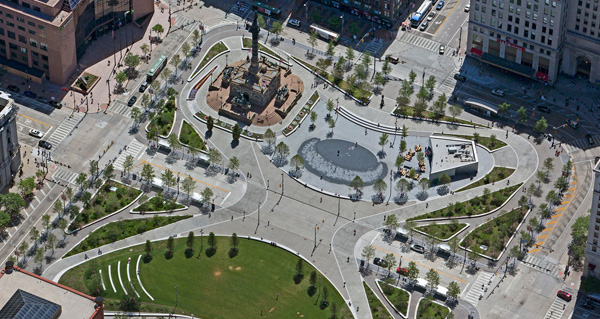 Dozens of construction crews have been busy installing lighting, electrical, concrete elements, water features, landscaping and other infrastructure in the heart of downtown Cleveland. A massive year-long $32 million effort to re-construct Cleveland Public Square is complete, and KS Associates is proud to have been involved in the project.
KS Associates was under contract with construction management firm Donley's, Inc. and eight subcontractors to provide surveying services for the project. KS Associates provided construction staking services to pinpoint the locations of where each element of the square would be installed. From sections of pre-cast concrete that came together to form  permanent bench seating walls, to utilities, trees, site grading, and pavement, KS helped steer construction in the right direction to keep the project on schedule.
According to Mark A. Yeager, P.S., KS Associates' Director of Surveying Services, "This was a challenging survey assignment due to the aggressive scheduling of construction, and the numerous contractors and equipment working in a condensed site area. Fortunately, everyone worked together in a collaborative effort to achieve the same goal of completing quality work on schedule."
KS survey crews performed more than 2,400 hours of surveying services to meet milestones and deadlines. The project broke ground in May 2015 and was completed just in time for the Republican National Convention.