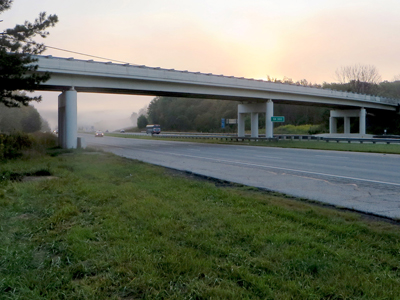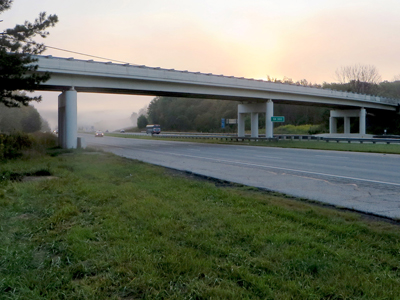 KS Associates is the Prime Consultant, leading the design of a deck replacement and widening of the structure that carries State Route 302 over Interstate Route 71 in Ashland County. State Route 302 is a major collector carrying two lanes of traffic. It currently has substandard shoulders.
The bridge is a four-span continuous steel beam bridge with an overall length of 308 feet. The project will replace and widen the bridge deck from 24 feet to 32 feet. To accommodate the wider deck, the piers will be symmetrically widened and the abutments will be totally replaced with wider semi-integral type abutments.
KS Associates and ODOT District 3 evaluated and developed four alternatives to achieve the project goals. Work included structural analysis and load ratings, drainage design, surveying and Right-of-Way plans, and Maintenance of Traffic plans. State Route 302 will be detoured for the duration of construction. Our Scope of services also includes construction phase services.
The project is being implemented according to Path 2 of ODOT's Project Development Process (PDP). Final design is underway. Construction is anticipated to be complete in 2020.