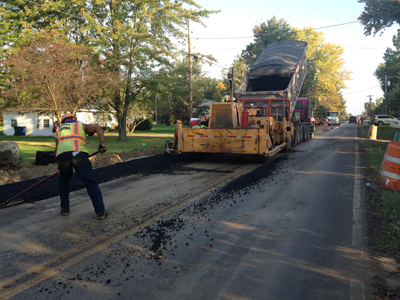 KS Associates provided engineering services for the LOR-CR59-2.59 Cowley Road Project for the Lorain County Engineer's Office. The project involved the widening and resurfacing of approximately 2.66 miles of Cowley Road between TR-8 (Crocker Road) and SR 82 (Royalton Road) in Eaton Township, Ohio.
Cowley Road is a narrow, two-lane rural roadway constructed in a residential area of the eastern portion of Lorain County. This collector street has a legal speed limit of 45 miles per hour. KS Associates was retained by the Lorain County Engineer to correct deficiencies in the roadway's shoulders, pavement and drainage. KS Associates' design called for modifications to the vertical alignment, pavement resurfacing, pavement and shoulder widening, replacement of drainage structures and storm sewers, ditch regrading, and the replacement of approximately 140 residential drive aprons. The project also called for new signage and pavement markings.
Our team's design included features such as widened lanes in both directions, widened shoulders, and improvements to the stormwater conveyance and treatment system. These features provide a safer and more pleasant experience for drivers and residents within the project limits.
The project was funded in part through federal financing (80%) and Ohio Public Works Commission financing (20%).