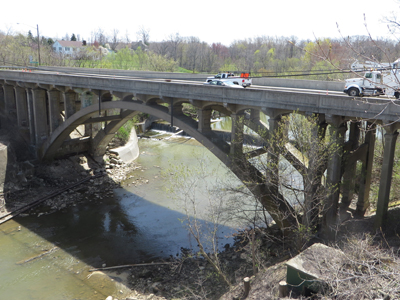 KS Associates was selected by ODOT District 3 to provide bridge inspection, evaluation, and design services for the rehabilitation of the HUR-20-2562 Bridge. This historically significant concrete open spandrel arch structure on U. S. Route 20 spans the Vermilion River in the Village of Wakeman. The bridge has a 162-foot main open spandrel arch span and is 314 feet long overall.
Using record drawings and as-built plans, KS created a 3D model of the existing bridge in MicroStation, then imported the model into SAP2000 for analysis. The model was utilized to generate an accurate replication of existing conditions for the "as inspected" analysis. This included material properties of the existing bridge, along with rehabilitation work that had been performed since the bridge was originally constructed. All applicable dead and live loads were applied to the model including AASHTO truck and lane loads, and ODOT truck loads within the limits of the bridge deck, simulating actual conditions. The bridge was evaluated to identify areas that appeared to have stress concentrations caused by the truck loads or bridge geometry.
In the spring of 2015, KS conducted an in-depth field inspection. Using an under-bridge inspection vehicle and technical climbing inspection, the entire bridge deck, superstructure, substructure, and concrete surfaces were sounded for areas of concrete delamination. Spalls and other deficiencies were noted and quantified.
KS observed that the most significant deficiencies occurred below the expansion joints in the deck slab between the main span and approach spans. In these areas the deck and adjacent floor beams and spandrel columns were heavily spalled and delaminated. The bridge drainage and channel were also observed during a rainfall event.