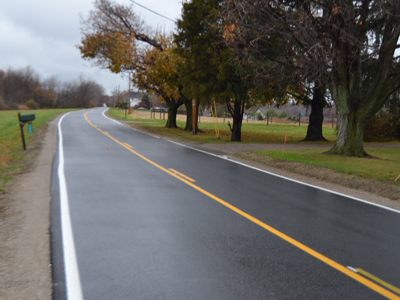 Jerusalem Road is a Federal-Aid Highway that provides main access to SR-2 east of the Vermilion River. In 2006, the pavement condition rating determined the roadway to be structurally deficient with problems such as base failure, wheel track cracking, longitudinal cracking, and surface disintegration. The defects caused the road to be bumpy and hazardous, discouraging drivers from using the route. 
KS Associates provided assistance to the City of Vermilion in assembling the financing package, preparing plans and specifications, and taking this project out to bid.
KS Associates prepared a Preliminary Project Application to the Erie Regional Planning Commission Metropolitan Planning Organization (MPO) for State Surface Transportation (STIP) funds to resurface 1.2 miles of Jerusalem Road from Vermilion Road to Sunnyside Road. In July 2011, the MPO awarded up to $856,656 to the City, on an 80% federal/20% local basis, for construction in State Fiscal Year 2015. In September 2013, KS prepared an Application for Financial Assistance to the Ohio Public Works Commission for funding under the State Capital Improvement Program. In July 2014, this highly competitive program awarded Vermilion a grant of $175,000.
KS Associates provided design engineering services, developed final bid documents, and assisted the City with the bidding process. In March 2015, the City awarded a construction contract to paving contractor Erie Blacktop, Inc. of Sandusky, Ohio, in the amount of $718,091, which was 11% below the Engineer's Estimate. Construction began in September 2015. 
It is expected that, with the STIP funds and OPWC funds, only $55,000 of local funds – 6% of the project cost – will be needed to complete this major resurfacing project.