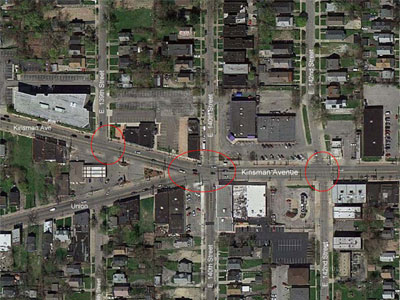 KS Associates prepared an Alternatives Study for the Kinsman Avenue Arts, Culture, and Entertainment  (AC&E) District Access and Enhancement Plan, including the evaluation of design alternatives in the District from E. 139th Street to E. 142nd Street. The enhancement plan proposed to implement streetscape improvements, pedestrian and bicycle enhancements and infill development.
Our traffic engineering team evaluated two signalized intersections, one where Kinsman Avenue, E. 140th Street and Union Avenue intersect, and another where Kinsman Avenue intersects with E. 142nd Street. KS Associates also evaluated an unsignalized intersection at E. 139th Street for level of service and accident frequency. The study concluded that the traffic patterns contributed to accidents along Kinsman Avenue and that improvements would have to be incorporated to provide safe and adequate bicycle and pedestrian access.
After reviewing the Existing Conditions Study, the client requested that we evaluate two design alternatives. The first alternative was to restripe Kinsman Avenue and Union Avenue to provide a two-way-left-turn-lane with one lane of traffic in the eastbound and westbound directions. The second alternative was to construct a roundabout for the intersection of Kinsman-Union-E. 140th Street.
It was determined that, in the near-term, the first alternative be implemented to immediately improve traffic safety while designing a roundabout in the long term. The roundabout would allow more continuous traffic flow and a lower speed as vehicles negotiate the traffic circle area. Also, the elimination of the traffic signal would reduce the number of rear-end accidents fr the line of traffic suddenly stopped for a RED light.