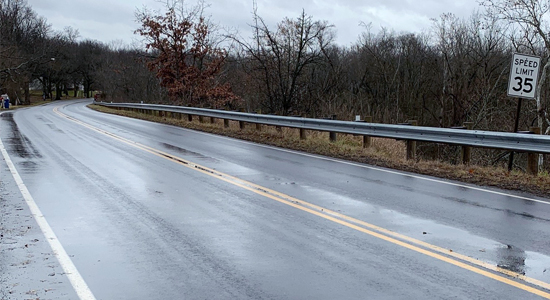 East River Road is one of only two roads that carry vehicles north and south through the Village of Sheffield. The road is a narrow two-lane asphalt road that had minimal aggregate shoulders.
KS Associates served as the Prime Consultant for design services for the resurfacing of three miles of East River Road. The scope of services included reconditioning the shoulders to provide a two-foot asphalt paved shoulder on each side. Work also included updating signage along the route and replacing outdated guardrail.
KS assisted the Village with several aspects of the project beyond design. KS helped prepare the advertisement for construction administration and construction inspection services, and assisted in the preparation of a grant/loan application to obtain funding to offset construction costs. Early in the project, KS provided detailed project estimates to assist in this process.
Now complete, this project provides a safer corridor for the heavily traveled route. Construction of the project was complete in 2018.