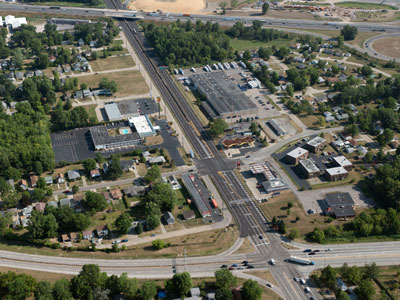 KS Associates served as the Prime Consultant for design of improvements to a 0.63-mile of LOR-SR-57 in the City of Elyria. The project included signal design and resurfacing all lanes of SR 57 between SR-113 and the southern termini of the major LOR-57-19.42 corridor improvement project (3,325 feet), for which KS also served as Prime Consultant. The project included a modification of the intersection of Warden Ave. and SR 57 to improve safety. KS Associates' design called for full-depth base repairs, removing and replacing highway lighting, upgrading sidewalks and curb ramps to meet ADA requirements, constructing crosswalks at Bell Avenue, upgrading guardrail and impact attenuators, improving turning lanes, and providing minor drainage improvements.
KS Associates also performed a traffic study. Our traffic engineering team designed upgrades to signals at the SR-57/SR-113 intersection, and signal replacements at the Bell Ave./SR-57 intersection. KS incorporated the same radar-based vehicle detection system for stop bar and advanced detection along with the adaptive signal timing systems that were installed on the adjacent LOR-57-19.42 project, which resulted in coordination of all signals at intersections along both project limits.
The traffic signal design incorporated combination mast arm signal supports and luminaire arms for street lights at each corner of the Bell Ave. intersection. The existing combination strain poles for the signal and lights at the SR-57 and SR-113 intersection were to be maintained or replaced so the clearances to the power lines that crossed the intersection had to be verified to meet OSHA standards.
KS Associates received a Notice to Proceed in July 2015. Final construction plans were filed with ODOT only five months later, in December 2015. Construction was completed in 2016.