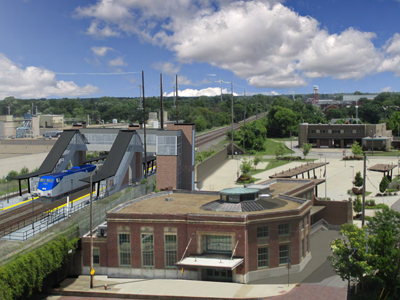 KS Associates provided engineering services for a new pedestrian skywalk at the Lorain County Transportation and Community Center. The proposed glass-enclosed bridge is part of the new Lorain County Transportation Passenger Station being designed by architectural firm Richard L. Bowen + Associates, Inc. The skywalk will provide a safe and weather-protected waiting area for passengers awaiting the new Amtrak rail service.
KS Associates performed a Bridge Type Study that analyzed five design alternatives, including the option of using existing tunnels beneath the rail lines to provide access to new east- and west-bound rail platforms. The chosen alternative is a 44-foot, two-span cantilever steel beam bridge supported by two piers, each of which discretely house elevators. This design approach minimizes construction activity on active rail lines.
KS Associates also provided surveying and 3D laser scanning services for the design.
Photo Credit: Architectural renderings provided by Richard L. Bowen + Associates Inc.