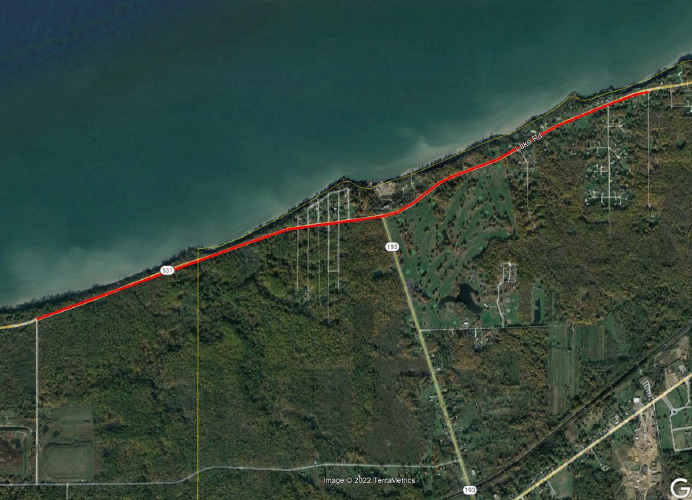 KS Associates is on a team with Environmental Design Group, LLC (EDG) to provide surveying and coastal engineering consulting for the Ohio Department of Transportation (ODOT) District 4 ATB SR 0531 13.20 project in Ashtabula County, Ohio. Wave-based erosion is causing instability of the bluffs along areas of SR-531, placing the roadway at risk.
The KS/EDG team will investigate 2.7 miles of SR 51, from just west of Whitman's Creek to Monday Drive. The team will identify locations of significant bluff erosion and prioritize those areas from greatest to least risk of impacting the roadway. The scope also includes providing estimation about when the coastal erosion may place the roadway at risk and require road closure; developing alternatives for temporary stabilization; and reporting on anticipated Right-of-Way impacts. The team will provide alternatives for permanent route relocation and/or re-alignment of SR-531.
KS's role is to perform surveys to monitor slope movement at key points along the route. The surveys commenced in October 2022 and will conducted twice a month for one year. KS Coastal Engineers will advise ODOT District 4 on coastal conditions, erosion control structures, and regulatory requirements, including potential permits from the U. S. Army Corps of Engineering (USACE), the Ohio Department of Natural Resources (ODNR), and the Environmental Protection Agency (EPA).