Bridge Design & Inspection Services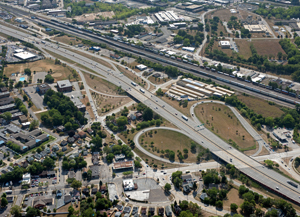 KS Associates' transportation engineers are experts in new bridge design, bridge evaluation, and bridge inspection services. We work with state Departments of Transportation (DOTs), tollway authorities, Local Public Agencies (LPAs), transit and rail agencies, and private clients, providing quality and cost-effective bridge-related engineering services.
Our bridge design experience includes new and rehabilitated concrete box beam bridges, slabs, and pre-stressed I-girders; multi-span steel beam and girder bridges, steel trusses, steel and concrete arch bridges; timber and railroad bridges; and movable bridges. We are experienced in bridge deck replacements and all types of bridge abutment and foundation design.
KS bridge engineers are experts in bridge inspection and load rating services. We have performed load rating on complex structures including Cable, Segmental Concrete, Bascule, Swing, and Vertical Lift bridges. Our work includes multiple truss bridges, steel haunched girder bridges (some in excess of 4,000 feet long), concrete prestressed I-girder, box culverts, concrete beam bridges, finite element analysis of hinges and gusset plates, CMP culverts, and stone arch bridges.
Bridge Design and Inspection Services:
Bridge Design
Bridge Inspection & Condition Surveys
Bridge Studies
Bridge Load Rating Analysis
Confined-Space Entry – OSHA Trained
Construction Administration & Inspection
Drainage Structures / Culvert Design
Rope Climbing
Hydraulic/Hydrology and Scour Analysis
Surveying Services
Contact:
Lynn S. Miggins, P.E.
President
440.365.4730, ext. 310
migginsl@ksassociates.com