Traffic Studies & Traffic System Designs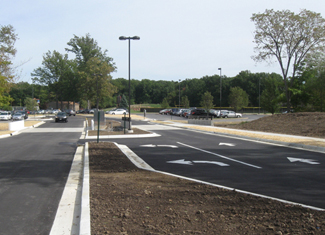 Traffic engineering is a specialized discipline that involves designing infrastructure to move and direct people along their desired routes — safely, cost-efficiently, and with minimal wait times and inconveniences. KS Associates has on staff Professional Engineers who are ODOT pre-qualified specialists in this discipline.
KS Associates' Traffic Engineering team is particularly beneficial during construction, in developing Maintenance of Traffic Plans for temporary lane closures, staged construction, or detours. Sound Traffic Engineering is paramount for infrastructure improvements that will permanently affect how members of the community travel and move about.
Equipped with the latest engineering software, our engineers can tackle virtually any assignment. This includes: Highway Capacity Software (HCS), Synchro Traffic Signal Coordination Software, SimTraffic, Traffic Signal Simulation Software, AutoTurn for the design of intersections and turning radii, and the Professional Engineer's Traffic Reporting and Analysis (PETRA) and Automatic Traffic Data Recorder (TRAXPro) software by Jamar for analyzing traffic count data.
Our Traffic Engineering Services Include:
Maintenance of Traffic (MOT) Design
MOT Plans & Specifications
Traffic Count Programs
Trip Generation for Traffic Impact & Interchange Studies
Signal Warrants
Intersection Capacity Analyses
Accident Studies
Traffic Safety Improvements
Isolated Traffic Signal Designs
Coordinated Traffic Signal Systems
Contact:
Lynn S. Miggins, P.E.
President
440.365.4730, ext. 310
migginsl@ksassociates.com