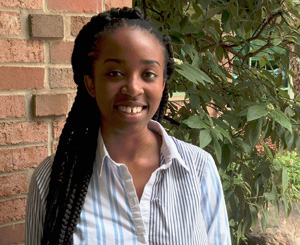 Olivia Okafor, an intern and aspiring civil engineer, has joined the KS Team and will work in our Transportation Group for the remainder of 2018. Olivia is a student at Case Western Reserve University (CWRU) and is on track to receive a Bachelor of Science degree in civil engineering in 2019.
Olivia is president of the African Student Association at CWRU, the goal of which is to enhance and sustain unity among African students. She is also treasurer of the CWRU American Society of Civil Engineers (ASCE) student chapter.
Olivia is working side-by-side with members of our team to determine which discipline — structural engineering, construction management, or water resources — will become her focus of study. She plans on pursuing a Master's Degree in civil engineering.
Olivia has an interesting international background. She was born in the United States and moved back to her parent's native country of Nigeria when she was four years old. She first attended high school in Nigeria, then transplanted to CATS Academy Boston, a college preparatory boarding school, to complete grade 12. Olivia is bilingual and is fluent in English and Igbo, Nigeria's native language.
Olivia is passionate about the environment. Working in collaboration with students from Lagoon Secondary School, her Nigerian high school, she founded Green Alive, an organization dedicated to improving air quality in her community. Because of Nigeria's limited power supply, many people rely on home generators, which contribute to large concentrations of carbon dioxide (CO2) and poor air quality. Through corporate sponsors and Olivia's determination, Green Alive has secured enough money to purchase and plant more than 100 trees that help remove CO2 form the atmosphere.
We hope Olivia has a rewarding experience at KS Associates.