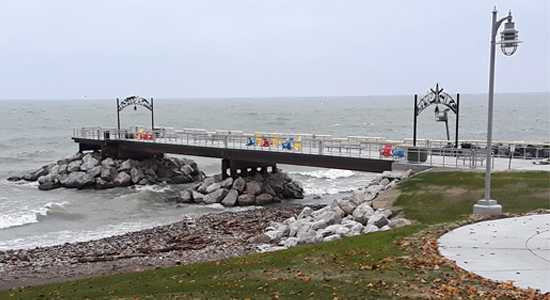 KS Associates would like to congratulate Cleveland Metroparks and the entire project team on the completion of the new Euclid Beach Park Pier. Although the official opening won't take place until the snow and ice melt in the spring of 2019, the pier is now open to the public (winter coat recommended).
KS Associates has been working on the project with Cleveland Metroparks since 2014. Early in the project, KS performed several site investigations; conducted a Metocean Analysis to determine how waves, ice, and the natural characteristics of Lake Erie would affect the structure and its lifespan; and developed design alternatives taking into consideration the architectural vision for the project.
The final design is a 315-foot-long pile-supported pier. Each abutment is armored with stone for protection against wave and ice forces. The pier was constructed by Nerone and Sons, Inc. with prefabricated bridge structures from Big R Bridge. The ADA-accessible pier includes handrails, lighting, and plenty of seating to take in panoramic views of Lake Erie.
This project is one of several Cleveland Metroparks initiatives aimed at providing more ways for the public to enjoy Lake Erie, one of our region's greatest natural resources.
To read more about the new pier, read the article recently featured in cleveland.com