High-Definition Data for Enhanced Design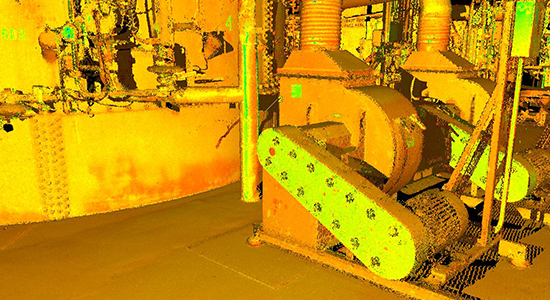 KS Associates offers 3D Reality Capture services that provide accurate, three-dimensional viewing and modeling of existing interior and exterior sites, spaces, and objects. The 3D Point Cloud data sets developed in this process can be used to provide accurate plans and modeling for architects, engineers, planners, contractors, fabricators, and owners. 3D Realty Capture can be used in a variety of applications, including adaptive reuse, building re-purposing, design, and construction.
KS Associates uses 3D laser scanners and photogrammetry to acquire and develop the Point Cloud data sets, then creates three-dimensional models or existing condition drawings in AutoCAD, Revit, and MicroStation.
3D Realty Capture offers a variety of advantages over other means of obtaining existing data by providing the ability to map and model in a virtual reality setting. This can:
Reduce and eliminate guess work and therefore redesign.
Reduce construction costs by designing with "real data" versus potentially outdated record drawings or as-builts.
Save time – you can virtually revisit the project site from your desktop. KS technicians can extract additional data from the Point Cloud without having to physically travel the project site.
Easily and safely provide data for otherwise inaccessible areas, such as ceilings, building facades, high-level bridges, overpasses, tunnels, tanks, and hazardous areas.
Also, KS technicians use software with automated processes resulting in quick and accurate data extraction and modeling.
Uses for 3D Reality Capture:
Architectural Design
As-Built Plans
Building Information Modeling (BIM)
Building Re-purposing/Renovations
Bridge Design and Reconstruction
Confined-space Measurements/Investigations
Earthwork/Volumetric Calculations
Historical Preservation/Documentation
MEP System Renovations
Plant and Piping System Retrofits
Steel Construction Verification
Streetscape Design
Topographic Surveying
Contact:
Mark A. Yeager, P.S.
Director of Surveying and 3D Reality Capture Services
440.365.4730, ext. 330
[email protected]