Safety, Efficiency, Flexibility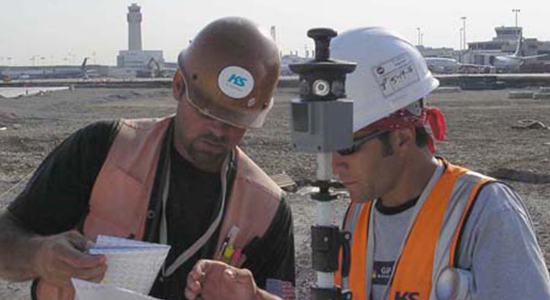 KS Associates serves the Airport / Aviation market by providing surveying services for all types of landside and airside projects. We have worked on national, regional, and local commercial/passenger airports, as well as military airbases. Our team is also experienced in submitting surveys in accordance with FAA Advisory Circulars 150/5300-16A, 150/5300-17C, and 150/5300-18B.
We also provide engineering support services related to drainage and stormwater design.
Our Survey Group has extensive experience working on active airfields, delivering accurate and high-quality surveys and basemaps for a variety of airport-related projects. We understand the importance of minimizing disruption to airport operations and have the flexibility to work off-peak hours to accommodate airline and airport schedules.
From surveys of taxiways, runways, and hangars to parking lots, terminals, and access roads, our team has delivered projects that improve the comfort, efficiency, and security of air travel and airport operations.
Airport/Aviation Services:
Aeronautical Surveys
Markings and Signage Drawings
Obstruction Surveys
Topographic & Boundary Surveys
3D Laser Scanning
Contact:
Mark A. Yeager, P.S.
Director of Surveying Services
440.365.4730, ext. 330
[email protected]