Waterfront and Water-Related Infrastructure Solutions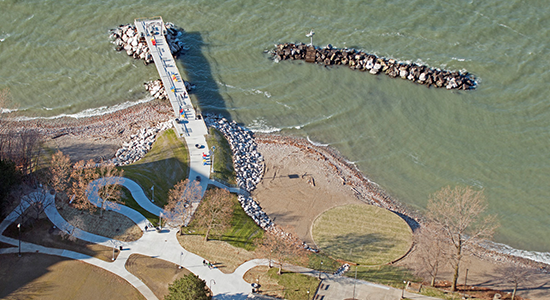 KS Associates operates a Coastal Engineering Group focused exclusively on the improvement of waterfront facilities and infrastructure along the Great Lakes, tributaries, and inland bodies of water. KS Associates is one of the only 100% Ohio-based firms with an in-house team of professionals focused exclusively on planning, design, permitting, and construction engineering support of marine projects
With KS Associates, you have an advisor who can assist you through every step of the permitting process. Our Coastal Engineering Group has an in-depth understanding of local, state, and federal regulatory agencies including the Ohio Department of Natural Resources (ODNR), Ohio Environmental Protection Agency (OEPA), and U.S. Army Corps of Engineers. Our Coastal Engineering team permits and implements more waterfront projects along Ohio's Lake Erie shore than all other consulting firms combined.
Commercial
The KS Coastal Engineering Group provides engineering solutions to entities that rely on Lake Erie, Cuyahoga River, and other waterways for their livelihood. We provide surveying, design, and construction-related services for projects including revetment repairs, breakwaters, bulkheads, sand-tracer studies, maintenance dredging operations, and more.
Recreational
KS Associates works with municipalities, park districts, and private clients to design and install infrastructure for recreational purposes. From docks and fishing piers to marina and boat access projects, we have the talent and technical expertise to create functional, attractive amenities that meet their intended purposes. Our Coastal Engineering team also has expertise in designing and installing nature-based shorelines. Unlike hard structures such as stone revetments and concrete seawalls, living shorelines can help prevent erosion, improve water quality, and promote fish and wildlife habitat.
Residential
Owning and maintaining a home along the waterfront presents unique challenges and opportunities. Our Coastal Engineers specialize in engineering services for residential waterfront properties, such as erosion protection, beach restoration, safe beach and lake access, the installation or rehabilitation of private docks and fishing piers, and more.
Coastal Engineering Services Include:
Construction Management and Inspection Services
Dredging Calculations and Surveying – Including the Beneficial Reuse of Dredged Material
Erosion Protection
Funding
Modeling – Including the use of SWAN, SWASH, GENESIS, and HEC-RAS
Nature-Based Shorelines
Naval Architecture
Regulatory Permitting
Sand Monitor Surveys
Structural and Waterfront Inspection – Including the use of Drone Technology and Underwater Cameras
Structural Design
Surveys – Boundary & Topographic
Surveys – Hydrographic
Surveys – Submerged Land Lease
Use of GPS Echo Sounder
Contact:
Mark P. Cencer, P.E.
Director of Coastal Engineering Services
440.365.4730, ext. 395
[email protected]