Responsive, Reliable Surveys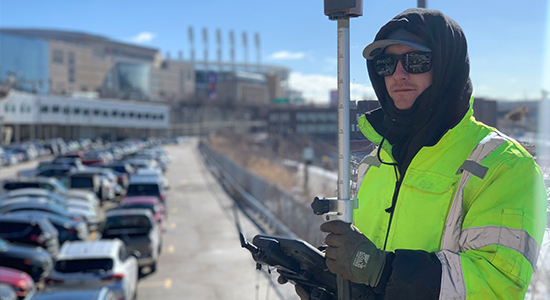 KS Associates has one of the most experienced surveying teams in Northern Ohio. The size of our group allows us to quickly respond to survey requests, and the caliber of our team allows us to tackle the most challenging assignments, virtually anywhere your projects take us.
We operate 3D laser scanning, robotic, and GPS instruments. This technology allows for one-person surveying. For you, this means fewer work hours, which can accelerate a schedule and save costs.
We also understand that quality surveys and base maps are the foundation for a well-designed project. That's why we implement rigorous quality control procedures. KS Associates checks our surveying work right down the line, from work in the field, during data processing, to the completion of the final deliverable. We work hard to minimize or eliminate the need for costly and time-consuming repeat site visits.
Our Full-Service Surveying Capabilities Include:
ALTA/NSPS Land Title Surveys
Airport/Aeronautical Surveys
Boundary Surveys
Confined Space Surveys
Construction Surveying
Rights-of-Way & Easement Surveys
Roadway & Corridor/Route Surveys
Hydrographic & Submerged Land Lease Surveys
Topographic Surveys
Utility Location Surveys
3D Laser Scanning / Terrestrial LiDAR
ODOT pre-qualified for Limited and Complex Right of Way Plan Development
Contact:
Mark A. Yeager, P.S.
Director of Surveying Services
440.365.4730, ext. 330
[email protected]