Well-Planned, Well-Designed Site Solutions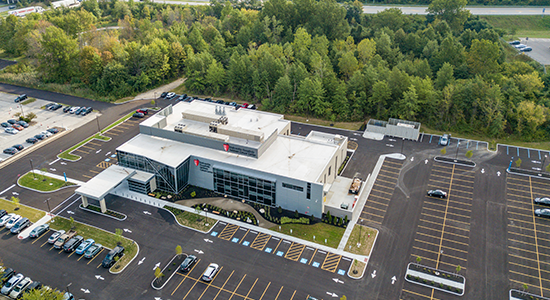 KS Associates works with clients to provide civil engineering and site design services for new building and expansion projects. Our civil/site engineers are experts in planning and designing infrastructure that will support the intended use of the site.
KS will serve as your trusted advisor, working with the project team throughout all phases of site engineering — from site reconnaissance, evaluations, preliminary engineering, and cost-estimating to design development, permitting, and construction phase services.
Our engineers address site issues and overcome challenges including stormwater management, utilities, environmental compliance, confined sites and limited footprints, wetlands, zoning, flood plains, and construction processes.
Our Site Development Services Include:
Site Investigation Studies
Conceptual Design & Cost Analysis
Site Planning, Zoning & Design
Traffic Impact Studies
Surveying Services
Stormwater Management
Floodplain Analysis
Earthwork Evaluation & Management
Stormwater Pollution Prevention Plans
Erosion & Sediment Control
Roadway Design
Preparation of Construction Plans & Specifications
Agency Coordination & Approvals
Construction Administration and Inspection Services
Contact:
Lynn S. Miggins, P.E.
President
440.365.4730, ext. 310
[email protected]