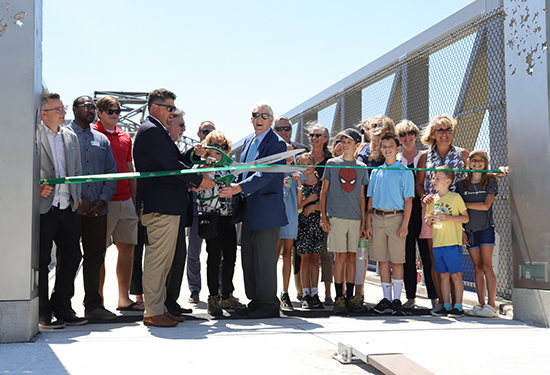 Blue skies and perfect weather graced the ribbon-cutting ceremony for the new Cleveland Metroparks Wendy Park Pedestrian Bridge. On June 24, 2021, the park district, along with project stakeholders and members of the community, gathered at Wendy Park to celebrate the long-awaited opening of the bridge. The bridge provides a route for cyclists and pedestrians to reach the Lake Erie shoreline from the Towpath Trail, the region's 101-mile hike-and-bike trail system.
KS Associates was the lead design engineer for project. The 14-foot-wide bridge consists of a 250-foot-long Tied Arch main span flanked by two 125-foot-long Pratt Truss spans. KS bridge engineers utilized prefabricated trusses and tied arches, then designed modifications to accommodate Norfolk Southern Railroad requirements and the high winds and ice loading conditions to which the bridge will be subjected during Cleveland's harsh winter months. The steel bridge was designed to complement its surrounding environment and industrial setting.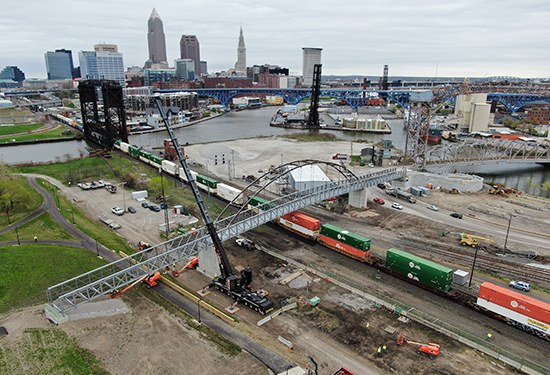 The Wendy Park Bridge is the missing link in a decades-long initiative to provide direct access to Lake Erie via the Cleveland Foundation Centennial Trail. The bridge ties into the north end of the Willow Avenue Lift Bridge over the Cuyahoga River Canal. From the lift bridge, lake bound travelers enter a switchback approach ramp constructed of reinforced earth and block walls that connect to the southernmost end of the 500-foot-long structure. The bridge carries travelers over railroad tracks and local industrial roads, then terminates at Wendy Park on Whiskey Island.
KS Associates congratulates our client, Cleveland Metroparks, and the many contributors to this gem for the City of Cleveland and our region.
For more information visit the Cleveland Metroparks' web site.