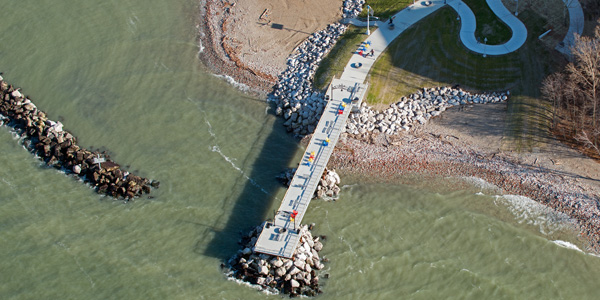 KS Associates is excited to learn that our Euclid Beach Pier project for Cleveland Metroparks has received an Honor Award in the 2020 ACEC Ohio Engineering Excellence Awards competition. And the project is in the running for the Outstanding Small Project Award.
The annual ACEC Ohio Engineering Excellence Awards program recognizes engineering projects that exhibit a high degree of innovation, complexity, achievement, and value. The Outstanding Small Project award will be given to the highest scoring project with a total project construction budget not exceeding $2.5 million. The recipient of this award will be announced at the awards luncheon on March 12, 2020.
KS Associates' Coastal Engineering team is honored to have led the design of this project. KS worked side-by-side with Cleveland Metroparks and project stakeholders to develop a sustainable, cost-effective, safe, and aesthetic solution to the pier.
According to Sean McDermott, P.E., Chief Planning and Design Officer at Cleveland Metroparks, "The new pier not only helps preserve the rich history and nostalgia of the original Euclid Beach Amusement Park, it also reconnects park-goers to Cleveland's lakefront and provides a much-needed recreational asset for the community."
The pier was designed to withstand harsh Cleveland winters, incorporates a natural fish habitat, and makes it possible and easy for visitors of all ages and capabilities to enjoy the park's lakefront.
We look forward to accepting the award in the Spring, and to learning about the many other award-deserving projects that are helping to sustain our region.