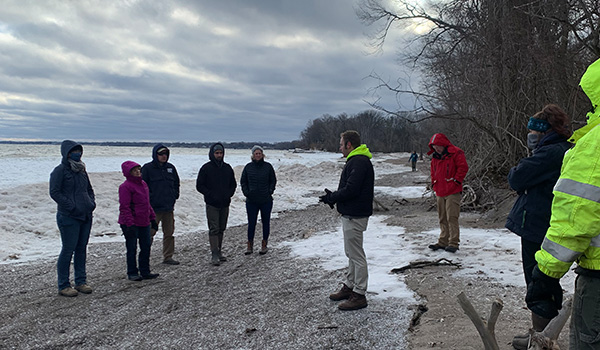 Coastal Engineers at KS Associates, Inc., along with ecologists at GEI Consultants, Inc. have collaborated with the Ohio Department of Natural Resources (ODNR) Office of Coastal Management to offer a certification program for Nature-Based Shorelines. Practitioners can understand the importance of living shorelines and learn industry standard techniques for designing and constructing natural shorelines.
The installation of living shorelines is becoming increasingly important for our region's ecosystem. Unlike hard structures such as stone revetments and concrete seawalls, nature-based shorelines provide the opportunity to restore natural structure and function to Lake Erie's coastal areas. When implemented correctly, nature-based shorelines prevent erosion, improve water quality, and promote fish and wildlife habitat
The first training session was held in 2022. Professionals attended two days of classroom instruction on March 2 and 3, 2022. Then on June 2, 2022, they headed to the field where they installed a living shoreline along Lake Erie at the Old Woman Creek State Nature Preserve in Huron, Ohio.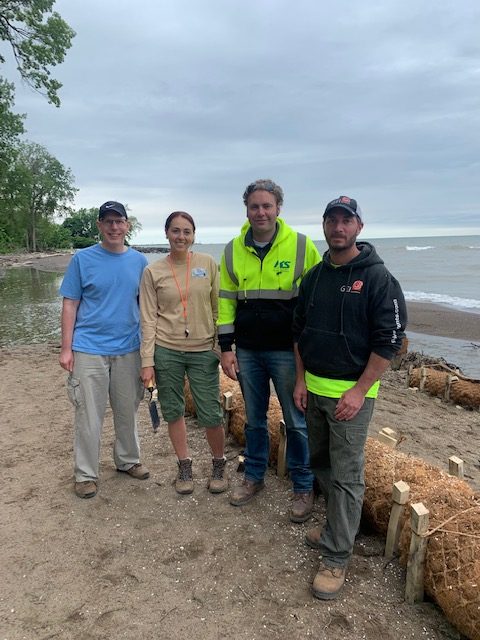 In 2020, ODNR selected the KS and GEI team to develop design guidelines, specifications, training manuals, and a framework for a hands-on field installation of a nature-based shoreline Old Woman Creek. KS Associates and GEI provided technical insight and worked with ODNR to develop this unique program. The course is designed to:
Help practitioners determine when natural vs. man-made shore protection makes sense.
Provide step-by-step instruction on the use of native plantings and natural elements such as coir logs and live fascines.
Include a hands-on day in the field to install a living shoreline. Sites will be identified for future training programs.
Participants receive a certificate of program completion valid for three years, Professional Development Hours (PDHs), and American Planning Association (APA) certification maintenance credit.
For more information about upcoming opportunities to become certified in the design and construction of Nature-Based Shorelines, contact:
Contact:
Emily Kuzmick
Coastal Training Program Coordinator
The Ohio Department of Natural Resources Office of Coastal Management
[email protected]