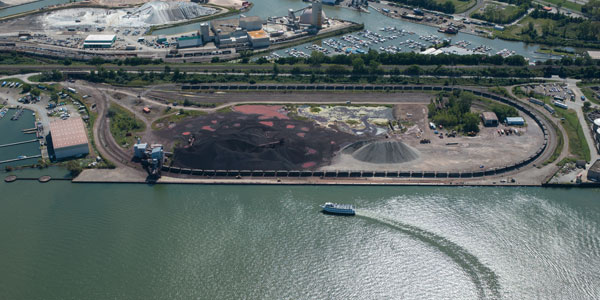 KS Associates was once again among the presenters at the 2019 Ohio Transportation Engineering Conference (OTEC), one of the largest transportation conferences in the nation. The event brings together transportation professionals to share ideas and innovative ways to safely and efficiently move people and goods throughout the state of Ohio. This year's conference took place October 29-30, 2019, at the Greater Columbus Convention Center.
Mark P. Cencer, P.E., KS Associates' Director of Coastal Engineering Services, delivered a presentation titled "Completion of Major Multimodal Transportation Infrastructure Rehabilitation at the Cleveland Bulk Terminal (CBT)." The presentation was part of the Construction Project Administration Session on Tuesday, October 29, 2019, at 10:30 a.m.
In 2016, the Port of Cleveland embarked upon a major capital improvement program to rehabilitate 70-year-old maritime infrastructure at the CBT. Last year, KS Associates shared with OTEC attendees the design innovations for the project. This year, KS Associates returned to OTEC to tell the final chapter of the story — of how the project team overcame challenges during construction to deliver a successful project.
This informative session explained the construction methodologies used to replace 1,200 feet of sheet pile bulkhead along the CBT's berth, and harness the foundations of historic Hulett automatic ore unloaders to anchor the new bulkhead. The project was successfully completed with no disruption to the CBT's operations and shipping schedule.