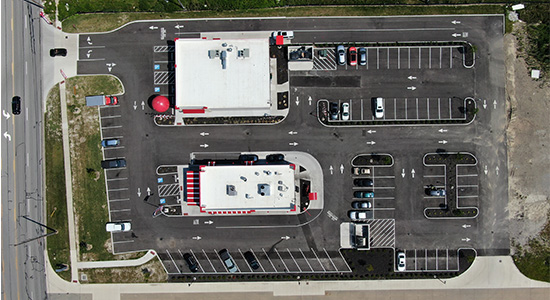 KS Associates provided surveying and site design services for Avon Plaza, a retail complex in the growing City of Avon. The plaza is a three-acre development, conveniently located on the south side of Chester Road, east of the SR 83 exit of I-90.
The project is anchored by a standalone Freddy's Frozen Custard and Steak Burgers restaurant with a drive-through. The second two-unit retail building houses a Charley's Philly Steaks restaurant with drive-through, and an available retail space.
KS Associates worked with developer Mickey Mann to turn his vision into reality.  The City of Avon's ordinances required a 10-vehicle stacking lane for each drive-through to prevent spillover traffic from blocking aisles and drives. KS designers achieved this by routing the drive-through traffic from the rear of the restaurants toward Chester Road.
Stormwater management for the site included a chamber system under the parking lot — preserving precious acreage. Because Avon Plaza shares a main driveway with law offices to the south, the drive was widened for a turn lane onto Chester Road.
Freddy's and Charley's both opened in mid-2023, providing additional menu options for Avon diners.