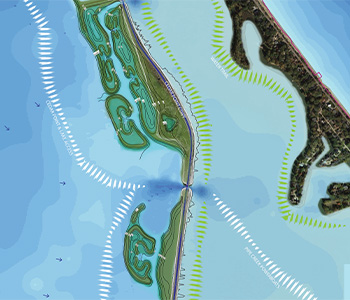 KS Associates is on the design team that was selected by the City of Sandusky for the Sandusky Bay Initiative, a substantial project aimed at the beneficial use of dredge material for aquatic habitat restoration in Sandusky Bay. KS Associates is providing engineering, permitting, and surveying services as a subconsultant to Foth Infrastructure and Environment, LLC.
The objectives of the project include the beneficial reuse of dredged material to restore in-water coastal wetland habitats; improvement to near-shore water quality by reducing nutrient and suspended sediment loads; and enhancement to wildlife, waterfowl, and fisheries habitat. Aquatic habitat connectivity and coastal resiliency are important concepts for Lake Erie. The solutions that the team is developing will serve as models for future work along larger stretches of the lakeshore.
The Sandusky Bay Initiative includes three project sites. The team that KS Associates is on was selected for the design of Sites 1 and 2. Site 1 is along the south shore of Sandusky Bay, west of downtown Sandusky. Site 2 (shown above) is located along the Cedar Point Causeway.
KS Associates is providing design and permitting for structures to contain and beneficially reuse dredge material. The City of Sandusky is working with the Ohio Department of Natural Resources to ursuing Great Lakes Restoration Initiative funding for construction of a Phase 1 pilot project along the shore of Site 2.