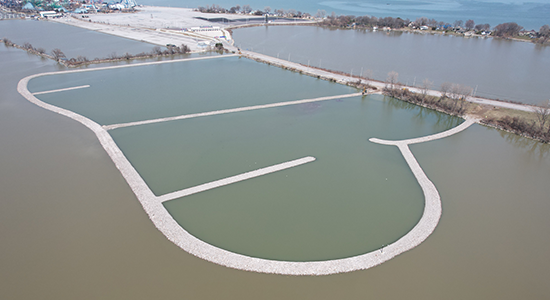 KS Associates is on a design team led by Foth Infrastructure and Environment, LLC, for the Sandusky Bay Initiative. This is a substantial project that will restore aquatic habitat in Sandusky Bay. The goals of the project are to beneficially reuse dredged material to restore in-water coastal wetland habitats; improve near-shore water quality by reducing nutrient and suspended sediment loads; and enhance wildlife, waterfowl, and fisheries habitat. Aquatic habitat connectivity and coastal resiliency are important concepts for Lake Erie. The team's solutions will serve as models for future work along larger stretches of the lakeshore.
KS is providing engineering, permitting, and surveying services for two of the three sites that comprise the project. Site 1 – along the south shore of Sandusky Bay, west of downtown Sandusky, and Site 2 – the Cedar Point Causeway Wetlands Project.
The design of Site 2 is complete. KS Associates assisted with design, provided surveying, and secured permits from the U.S. Army Corps of Engineers, Ohio Department of Natural Resources, and Ohio Environmental Protection Agency.
Under a separate contract, KS Associates is providing construction inspection and engineering services for Site 2. The scope of work includes coordinating the pre-construction and progress meetings, responding to contractor Requests for Information (RFIs), performing on-site inspections including obtaining drone imagery, and monitoring the contractor's work and payment requests. Construction of Site 2 commenced in October 2021 and is scheduled for completion in April 2022.
The City of Sandusky and ODNR received funding for construction of a Phase 1 pilot project along the shore of Site 2 from the The Great Lakes Restoration Initiative (GLRI). This includes construction of the perimeter breakwater, which is being funded by the Ohio Healthy Lake Erie Fund. GLRI funding will be used for placement of the dredge material, planting, and grading to complete the project.