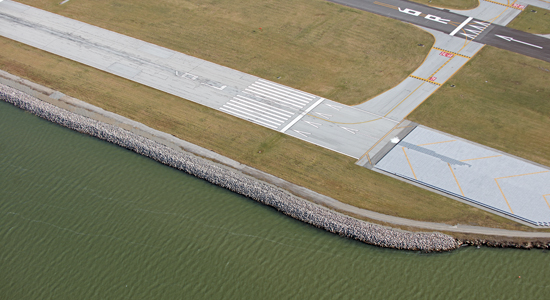 KS Associates was on the design team to assist the City of Cleveland with the restoration of the Burke Lakefront Airport (BKL) shoreline after it suffered damage from Hurricane Sandy in October 2012. The shoreline was pounded by large waves, which damaged the protective rock revetment along the airport's western shoreline and parts of the airfield.
KS Associates' role on the project was to assess the existing shore structures, coordinate geotechnical investigations, prepare recommendations and design alternatives for a new revetment, complete detailed design, prepare environmental/coastal permits, assist with the preparation of final plans and specifications, and perform bidding and construction phase services. The chosen shoreline protection alternative called for replacing a rubble mound revetment with a new armor stone revetment.
KS Associates performed a topographic survey of the shoreline area, mapped existing utilities, and performed a hydrographic survey of the nearshore adjacent to the project site. The survey team used traditional surveying practices, as well as 3D laser scanning, to map the embankment. Surveyors created a point cloud from 23 individual 3D scans to provide a detailed 3D model of existing conditions along the shore.
Environmental/coastal permitting was a challenge. Typical coastal project mitigation measures could not be safely implemented at a lakefront airport. KS Associates worked closely with the U.S. Army Corps of Engineers (USACE), Ohio Department of Natural Resources (ODNR), and Ohio Environmental Protection Agency (OEPA) to develop a design a permitting strategy to satisfy all regulatory requirements. KS Associates secured a USACE Section 404 permit (NWP 3), an ODNR Shore Structure Permit, and an ODNR Submerged Lands Lease for the project.
The project was bid in August 2017 and construction was complete in January 2019.
KS Associates performed services as a subconsultant to WSP | USA.