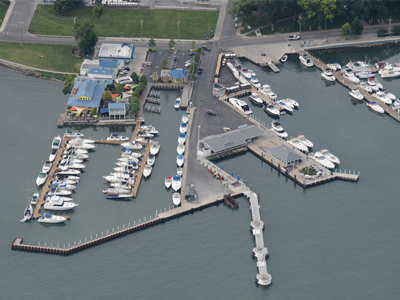 Members of KS's Coastal Engineering Group provided design, permitting, and construction engineering services for the Park Place Marina project. The marina is located on Put-In-Bay, Ohio. The marina is a remodeling of the former Ladd's Marina, and offers nearly twice the amount of docking space.
Deteriorated steel crib and fixed docks were replaced with floating docks, which are safer and require less maintenance. The 60-slip marina can accept boats up to 50 feet in length and offers amenities including restaurants, private showers, wireless Internet, golf cart rentals, 30- and 50-amp electrical service, mooring buoys, and water taxi service.
The project also included a new 10-foot-wide, double sheet pile breakwater. The breakwater extends 266 feet northeast into Put-In-Bay Harbor and wraps around the face of the marina toward the east. The breakwater is designed to absorb the impact of waves, resulting in a more comfortable and safe journey into the marina and to the docks.
Engineering services helped the marina owner develop a first-class marina, which an increased number of boaters can now enjoy. Park Place Marina has public docking spaces and also services the Park Place Boat Club, a private club with more than 300 members.
Construction Cost: $2 Million