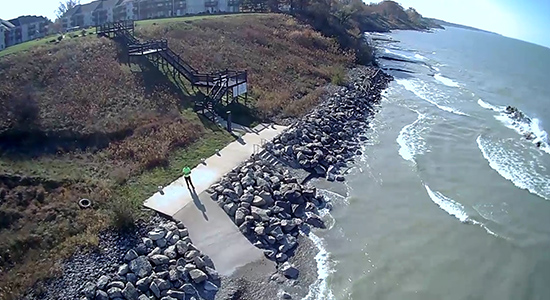 In 2015, members of KS Associates' Coastal Engineering Group designed an armor stone revetment to protect lakefront property in Ashtabula County from erosion. Five years later, KS Coastal Engineers performed an inspection to see if stone had been displaced from recent storms and high water levels along Lake Erie. With the aid of a drone, KS engineers discovered that the revetment held up and was effective in its purpose to stop erosion.
In addition to the physical inspection, our coastal team reviewed historic drawings and aerials and prepared an inspection report that gave the client options for maintaining the revetment and addressing erosion further west on the property. The details of the report included quantified rates of erosion, conceptual alternatives for maintenance, new structures that could be built at the west end, and an Engineer's Opinion of Probable Construction Costs for improvements.
Protect Your Shoreline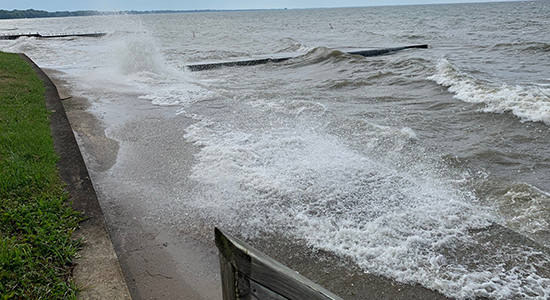 If your shoreline is creeping too close for comfort, you're losing your beach or bluff, or are contending with today's record-high water levels — we're here to help. KS Coastal Engineers can assess your unique situation and develop a solution to protect your shoreline. We will make sure your project complies with regulatory requirements and can assist you through the construction process.
Contact us to schedule a preliminary assessment of your project. An investment in an initial inspection will help you understand potential technical solutions, costs, and timelines.
CONTACT:
Mark P. Cencer, P.E.
Director of Coastal Engineering Services
440.365.4730, ext. 395
[email protected]