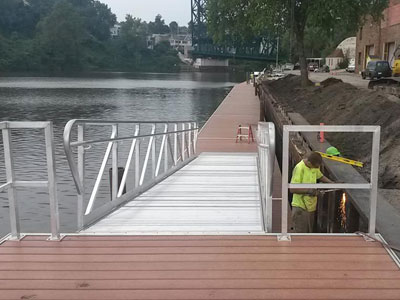 KS Associates designed the dock area and river frontage for The Foundry, a state-of-the-art rowing facility located along the Cuyahoga River in Cleveland. The Foundry is the vision of Mike Trebilcock and his wife, Gina, who purchased a series of industrial buildings to transform them into a recreational hub and education center for high school and college athletes who want to become high-performance rowers and sailors.
In 2014, Trebilcock, in conjunction with MCPc Family Charities, contracted with KS Associates to prepare construction plans for the Foundry's dock area. The design included 520 linear feet of rowing and launch docks, gangway ramps, steel platforms, and anchor piles. KS Associates also provided permitting and surveying services for the project.
Trebilcock and those associated with The Foundry were impressed with KS Associates' due diligence with the project, including obtaining a permit from the U.S. Army Corps of Engineers, and obtaining approval from the Coast Guard and the Northeast Ohio shipping community.
The docks, constructed by RowAmerica, and boathouse opened in August 2015, just in time for the 2015-2016 school year. The Foundry is located on the east side of Columbus Road across from Rivergate Park. With Rivergate Park and The Foundry on the banks of the Cuyahoga River, the project is providing greater riverfront accessibility to the growing rowing community.