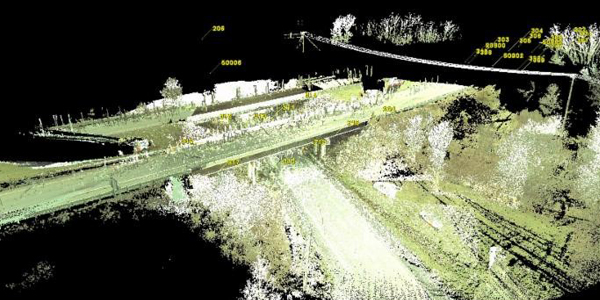 KS Associates provided surveying services to AECOM for a $10 million bridge rehabilitation project in Tuscarawas County. This ODOT District 11 project, TUS-77-03.78, is complex, involving the rehabilitation of five structures: two mainline superstructures over the Tuscarawas River, two structures over S.R. 258, and a bridge crossing Dunlap Creek. KS utilized 3D laser scanning to supplement the survey. The use of 3D laser scanning offered several advantages, including:
Sped up the entire surveying process. A shortened survey schedule translated into fewer lane closures and inconveniences to the traveling public, and required less time working in high-speed traffic conditions. This improved safety and saved Maintenance of Traffic costs.

Efficient data capture in otherwise difficult-to-access areas. KS survey crews were able to remotely acquire detailed bridge data, such pier caps and beams over the Tuscarawas River, without having to physically enter the waterway. 3D laser scanning allowed surveyors to efficiently capture an enormous amount of data that would have been otherwise extremely difficult and time-consuming to obtain. 

"Point Cloud" Proivdes Access to Data, Long after Survey is Complete. During the bridge analysis, designers needed additonal survey data beyond the original scope of surveying services. KS saved field time, and therefore costs, by extracting data from the "point cloud" generated from the initial survey, rather than re-visiting the project site. 
The TUS-77-03.78 project is one example of how 3D laser scanning can shorten the survey schedule, reduce surveying costs, improve safety for the traveling public, and provide significant detail to designers.