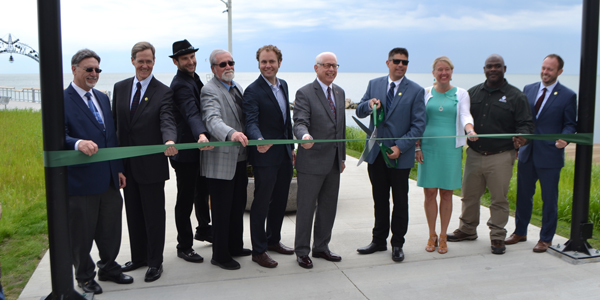 On Wednesday, May 22, 2019, representatives from KS Associates had the honor of attending Cleveland Metroparks' ribbon-cutting ceremony for the new Euclid Beach Park Pier. KS Associates was the lead design engineer for the pier, working with the Cleveland Metroparks team since 2014 to help make the project reality.
The ribbon-cutting ceremony took place just one month shy of the 124th anniversary of the opening of the original Euclid Beach Park, which closed in September 1969. The long-awaited pier offers spectacular views of the downtown Cleveland skyline, links the community to the lakefront, and helps to preserve the history of Cleveland's beloved Euclid Beach amusement park and beach.
KS Associates' coastal engineering team designed the ADA-accessible pier to withstand wind, ice, waves, and natural forces of Lake Erie. Reminiscent of the original Euclid Beach Park are the black metallic archways forged with shapes of carousel horses, Flying Turns cars, and other nostalgic icons of the original amusement park.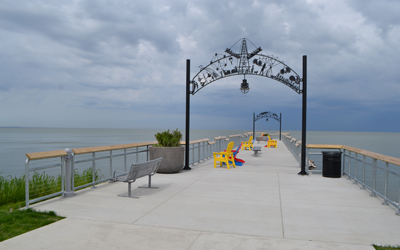 Cleveland Metroparks' development of the pier is part of its 99-year lease on various lakefront parks — including Euclid Beach and nearby Villa Angela and Wildwood — that began in June 2013. This project is one of several Cleveland Metroparks initiatives aimed at providing more ways for the public to enjoy Lake Erie, one of our region's greatest natural resources.