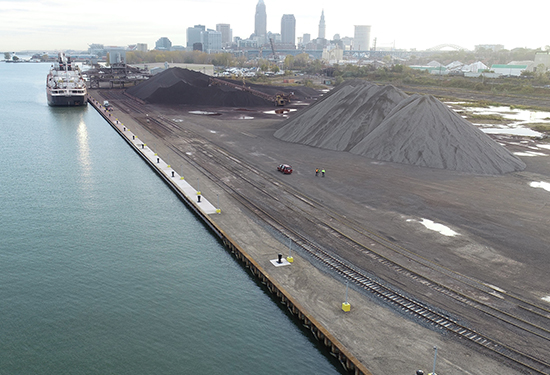 KS Associates received an Honor Award in the 2021 Engineering Excellence Awards competition sponsored by the American Council of Engineering Companies of Ohio (ACEC Ohio). KS Associates' entry, the Multimodal Transportation Infrastructure Rehabilitation at the Port of Cleveland Bulk Terminal (CBT), was recognized for its innovation, complexity, and impact to the economy. KS Associates was the lead engineering consultant for the project, under contract with the Cleveland-Cuyahoga County Port Authority (CCCPA).
The awards luncheon took place on Thursday, June 10, 2021, at the Columbus Zoo. We were thrilled to catch up with our colleagues and fellow award winners. To read more about the event, go to: ACECOhio.org
About the Project:
CCCPA operates the Port of Cleveland, one of the largest ports on the Great Lakes. The Port is a significant contributor to Cleveland's economy and development. More than 20,000 jobs and $3.5 billion in annual economic activity are tied to 13 million tons of cargo that move through Cleveland Harbor each year. Critical to the Port's operations is the Cleveland Bulk Terminal (CBT), one of the Port's two maritime facilities in the Cleveland Harbor. The CBT is a true multimodal transportation facility that supports up to 1,000-foot vessels that travel along America's Maritime Highway System M-90 corridor, barges, a Class 1 railroad, and truck operations. The CBT facilitate the movement of dry bulk commodities, including limestone and 2,000,000 tons of taconite annually.
In 2016, KS Associates led an inspection and evaluation of the CBT's waterfront structures. The evaluation revealed that the 70-year-old infrastructure needed a major rehabilitation. KS led the design of the Port's major $8,770,000 capital program. The program was supported by FHWA funding with ODOT LPA oversight. Improvements included the total replacement of 1,200 feet of sheet pile bulkhead along the CBT's berth. The project construction work was successfully completed in 2019.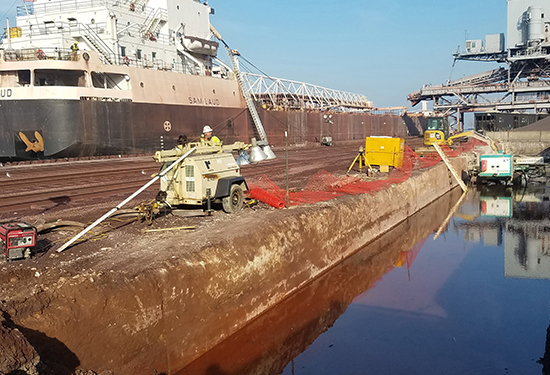 The KS Team worked closely with the Port and project stakeholders to successfully overcome challenges including: working around remnants of the old massive Hulett automatic ore unloaders that were in the direct path of the project; sending a diver 70 feet below water and 3,000 feet into the City of Cleveland's water intake tunnel to install vibration monitoring to ensure the tunnel was not compromised during construction; contending with unknown materials uncovered during different phases of the project; and working around three sets of railroad tracks just feet from the new bulkhead — all while remaining free of "regulatory barnacles." The project met aggressive schedules with no disruption to the terminal's operations and the Port's shipping schedule.
This project has helped the Port maintain efficient and reliable bulk terminal operations. It ultimately removes barriers to trade and contributes to the region's economic livelihood.