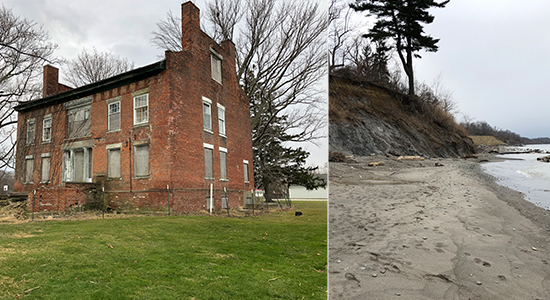 Perry Township has awarded KS Associates a contract to design erosion control solutions along the Lake Erie shore at the Parmly Mansion. Built in 1834, the mansion is located within Perry Township Park. The home is one of the oldest structures in Perry, Ohio.
Since purchasing the property in 2002, Perry Township government leaders have not been able to find a developer willing to buy and restore the house. In December 2020, the township was awarded $200,000 for the shoreline improvement project as part of the new Ohio capital budget bill.
Over the years, natural effects of Lake Erie and the recent record-high water levels have caused severe erosion along the bluff of the property. KS Coastal Engineers will design a new 150-foot armor stone revetment between existing shore structures that have been placed along the shoreline over the years, including stone groins to the west and a "Campbell" model revetment to the east. The scope of work includes topographic, hydrographic, and boundary surveying; developing opinions of probable construction costs; preliminary and final designs; preparation of construction documents; and bidding and construction-phase services.
KS Coastal Engineers will also steer the project through a complex permitting process. The project will require authorization from the U.S. Army Corps of Engineers (USACE), the Ohio Environmental Protection Agency (OEPA), and Ohio Department of Natural Resources (ODNR).
KS Coastal Engineers will design a new armor stone revetment to protect the shoreline and bluff from further erosion. Above Left: Existing stone groins to the west of the project area. Above Right: The "Campbell" model revetment to the east.
About Parmly Mansion:
The 185-year-old Parmly Mansion is one of Perry Township's oldest and most historic houses. The mansion was built in 1834 by Jehiel Parmly, a prominent dentist who is claimed to have treated President James Monroe. In 1918 William Lorimer bought the brick federal-style home and developed the property into an overnight summer camp called Camp Roosevelt for Boys. In 1946 Lorimer's son, Bill, purchased the camp from his father. In 2002 he sold the mansion and 20.5 acres of surrounding land to Perry Township. Bill Lorimer remained in the home until his death in 2012.