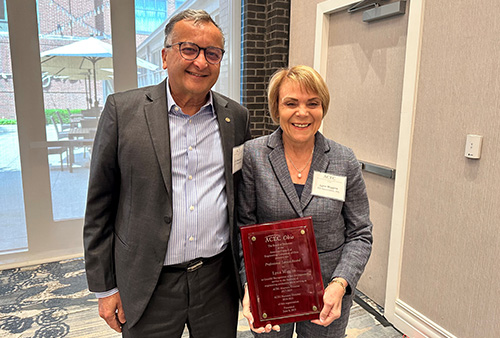 At the American Council of Engineering Companies (ACEC) of Ohio Annual Meeting on June 8, 2023, Chair C. K. Satyapriya presented outgoing Board Member and National Director Lynn Miggins, P.E., with a Professional Service Award for her distinguished contributions to the organization while serving as Alternate National Director (2017-2019) and National Director (2019-2023). Miggins is President of KS Associates, Inc. 
According to Miggins, "It was my honor to serve ACEC Ohio in this capacity and as a Board Member for these past 13 years. The professional relationships and personal friendships that have evolved from this service are many and priceless. What could be better than working with individuals whose firms are committed to making the world a safer, healthier, more sustainable place for all?  ACEC Ohio is in good hands!"
About ACEC Ohio:
American Council of Engineering Companies of Ohio is a non-profit trade association comprised of firms that provide a wide array of engineering and other professional services for all types of construction and environmental improvement projects. ACEC Ohio member companies provide services to local, state and federal government agencies, as well as commercial and industrial clients.
The mission of ACEC Ohio is to advocate for the advancement and protection of the engineering business.  ACEC Ohio is the state affiliate of the American Council of Engineering Companies.