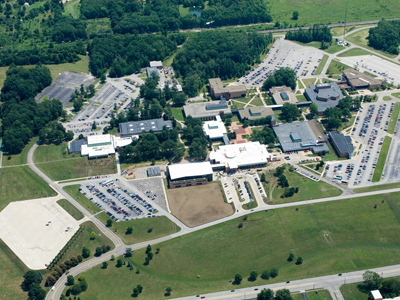 Lorain County Community College (LCCC) is one of KS Associates' largest educational clients in terms of the number of projects for which we have provided services, as well as the size and importance of these projects to the college, students, faculty, and the surrounding communities.
KS Associates' offices are located on the campus of LCCC, giving us an ideal vantage point to observe and participate in the college's growth. KS Associates has assisted LCCC in overcoming infrastructure challenges, particularly those related to that growth.
KS Associates has worked with LCCC and its design teams to provide site development related services for hundreds of thousands of additional square feet of classroom space that the College has needed to support its educational mission. In addition to site development services for new buildings, KS Associates has designed new and rehabilitated driveways, parking lots, and pedestrian ways to accommodate LCCC's student body. We have also performed surveying services campus wide, providing topographic and boundary surveys and reliable basemaps that serve as the foundation for successful design and construction projects.
Recent and representative LCCC projects include:
Nord Advanced Technology Addition and Renovaton
Richard Desich SMART Commercialization Center – LEED Certified at the Silver Level
Laboratory Sciences Building – LEED Certified at the Silver Level
Culinary and Convergent Digital Arts Facility
Barbara and Mike Bass Library/Community Resource Center – LEED Certified at the Silver Level
College Center Building
Entrepreneurship Innovation Center – LEED Certified at the Silver Level
Health, Physical Education, Recreation (HPER) Addition and Renovation
Wind Turbine Program
Various Parking Lot and Entrance Drive Improvements
Regional Stormwater Management Basin