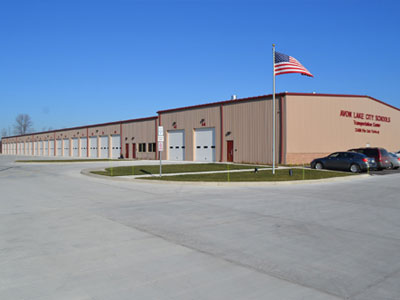 KS Associates provided civil engineering and surveying services for Avon Lake City School's 2009 Modernization Program, which included the new Avon Lake City Schools Transportation Center. The Center houses the school district's new state-of-the art bus garage and four-bay maintenance facility. The facility was designed to house up to 40 busses indoors at one time and includes a welding room, stock room, break room and office areas. Working with the architect, KS Associates prepared design documents throughout all phases of the project — from schematic design through final Construction Documents.
The design included dual gasoline and diesel fueling stations to allow for onsite fueling of buses and other school district vehicles. The design also included an oil/water separator to treat floor runoff in the garage area, and to collect oil within the building and service area.
The number of busses traveling in and out of the facility called for a durable paving solution; KS Associates specified concrete pavement due to its durability, maintainability and life cycle. The facility was designed to accommodate the City's growth and is expected to serve the schools for at least 50 years.
KS Associates' civil design team used Autodesk Civil 3D AutoTurn software to evaluate bus paths and allow a reduction in the width of the concrete pavement on both sides of the garage, which trimmed project costs. The AutoTurn evaluation was also used to position the fueling station and approach pavement.
KS Associates also designed a stormwater management retention basin to meet water quality and storm water volume requirements.