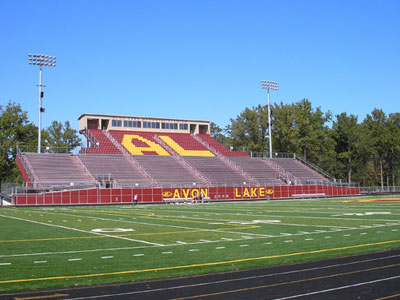 KS Associates was selected by the architect to provide civil engineering and surveying services for Avon Lake City School's 2009 Modernization Program. As part of this project, KS  Associates provided civil engineering and surveying services for the Avon Lake Memorial Stadium, a renovated and expanded high school stadium. Site design services included preparing site, utility and grading plans for the grandstand renovations, including expanded new seating, new locker rooms, a new press box and restrooms/concessions facilities.
The design called for replacing the grass-surfaced playing field with a synthetic field, striped for both football and soccer. A synthetic track surface with perimeter trench drains was also installed in the "D" areas (ends of the field) for track-and-field events.
Project challenges overcome by our design team included the grading around the locker room in the existing stands. The project called for the installation of handicapped accessible routes to the new grandstand entrances, which required re-grading to accommodate ADA requirements. An old clay tile storm sewer was located under the playing field. The installation of a new synthetic field required KS Associates' site plan to call for replacement of the clay tile with a new PVC storm sewer.
KS Associates also designed a separate drainage system for the synthetic surface and track drainage, which was diverted to an existing catch basin in an existing parking lot. This separate system was designed to alleviate any surcharges in the PVC pipe under the playing surface.
KS Associates performed boundary and topographic surveys for this project – just one of several surveys conducted as part of the schools modernization program, which totaled 170 acres of surveying.