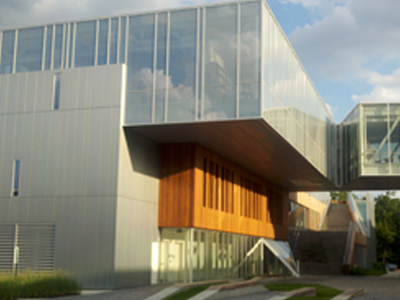 KS Associates provided surveying and site design services for the Bertram & Judith Kohl Building, which houses the highly regarded Jazz Institute and Conservatory of Music at Oberlin College. The project also included design services for the parking lot expansion.
KS Associates was selected by the architect to assist with designing the site and pursuing LEED credits. The facility is LEED Certified at the Gold level — a ranking few buildings achieve. KS provided LEED review, designed or assisted in design and/or documentation services for LEED credits in the category Sustainable Site Credits for Stormwater Management, 6.1 & 6.2.
KS Associates' role was to provide grading, parking, and stormwater management facilities designs. Close coordination was required to address existing utility relocation, and to provide for vehicular traffic rerouting and handicapped accessibility.
Surveying services included a boundary and topographic survey of the existing structure as well as parking areas surrounding the site.