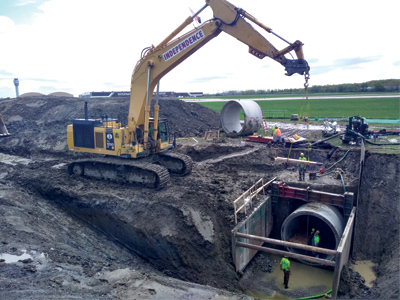 KS Associates is on the project team to provide engineering and surveying services in support of a major pavement improvement project at Cleveland Hopkins International Airport (CLE). The goal of the project is to remove, relocate, or extend "hot spots," or areas of taxiways with a higher potential for pilot confusion due to their width, orientation, or proximity to other airport facilities.
KS Associates was responsible for the storm sewer design, a major component of the project, accounting for approximately $9 million in construction cost. Engineering services included designing various alternatives then performing final design for approximately 10,000 linear feet of storm sewer, most of which was 78" to 120" in diameter. Storm sewers included a new trunk sewer to re-route the storm runoff to the airport's central detention basin, eliminating direct discharge to the Rocky River. The storm sewers were also designed with capacity for future connection of storm runoff from pavement concourse areas and from two additional areas with outfalls to the Rocky River.
Survey work included topographic surveys and base mapping, confined-space entry surveys for underground structures, 3D laser scanning for manholes, and submitting FAA AGIS data required under the requirements set forth in the FAA AC 150/5300-18B.
In 2017 the project was awarded to Independence Excavating at the bid amount of $24,562,943.
KS Associates is providing services for this phase and future phases of construction as a subconsultant to Michael Baker Jr., Inc.