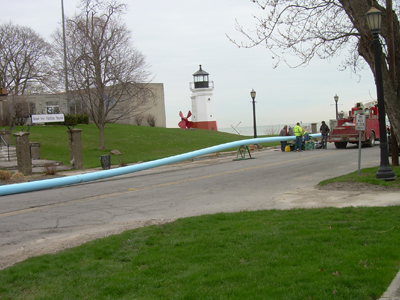 While performing maintenance dredging of the Vermilion River, a contractor working for the City of Vermilion ripped out a 10-inch water main, one of only two mains that cross the river and provide redundant service to the City. KS Associates prepared plans for a water main replacement to reestablish this critical connection.
Our design team chose horizontal directional drilling as the preferred method of installation because the urgency for the repair did not allow time for obtaining permits for open excavation, the City had easements through private property – one of which had an in-ground pool – that were of inadequate width for open cut construction, and this avoided the complete replacement of a concrete driveway. The final installation included 460 lineal feet of 10-inch diameter fusible C-900 PVC water main, four new service connections, and two new mainline valves. 
The water main replacement was completed at no cost to the City – fully reimbursed by the contractor – and with little disruption of service to nearby property owners. Construction was completed in 2014. Construction Cost Estimate: $150,000.