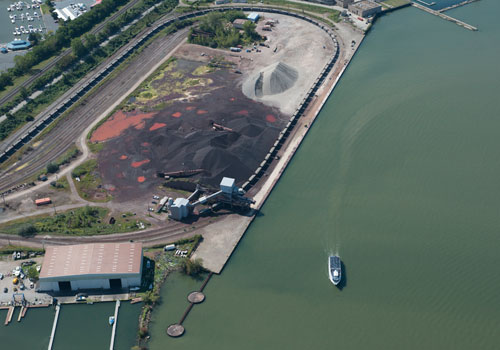 KS Associates led the design of an $8,770,000 infrastructure improvement at the Port of Cleveland – Cleveland Bulk Terminal (CBT). The CBT is one of the Port's two maritime facilities in the Cleveland Harbor. The CBT is located on Whiskey Island, just west of the Cuyahoga River, along America's Maritime Highway System M-90 corridor. The terminal facilitates the movement of dry bulk commodities that arrive by ship from other Great Lakes ports, including limestone and 2,000,000 tons of taconite annually. The terminal is a critical link in the supply chain for the delivery of raw materials feeding the ArcelorMittal steel mill on the Cuyahoga River.
In 2016 and 2017, KS Associates provided a complete above-ground and below-water assessment of the CBT infrastructure. KS coastal engineers then developed innovative, cost-effective design solutions to rehabilitate and replace 1,200 linear feet of bulkhead; install mooring bollards; develop stormwater management solutions; and update lighting and safety features. KS Associates also provided surveying; coordinated environmental and historic archaeology studies, and assisted with the development of a GIS database for a future Asset Management Program.
KS Associates worked with the Cleveland Port, ODOT, and subconsultants to complete design of the project on an accelerated schedule. Field work and construction activities were programmed around the Cleveland Port's busy daily shipping schedule to minimize disruption to port operations.
Construction bids were received in October 2018 and the project was fully constructed in September 2019.
The project was given an Honor Award in the 2021 Engineering Excellence Awards competition sponsored by the American Council of Engineering Companies of Ohio (ACEC Ohio). The project was recognized for its innovation, complexity, and impact to the economy.