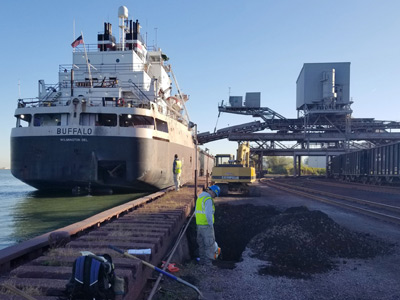 KS Associates is under contract with the Cleveland-Cuyahoga County Port Authority to provide engineering services for a major maritime infrastructure program at the Cleveland Bulk Terminal (CBT). Located on Whiskey Island in the Cleveland Harbor, the CBT handles more than 2,000,000 tons of taconite annually and is a critical link in the supply chain for the delivery of raw materials feeding the ArcelorMittal steel mill on the Cuyahoga River.
KS Associates is developing innovative, cost-effective design solutions to rehabilitate and replace 1,185 linear feet of bulkhead along the CBT property; install mooring bollards; develop stormwater management solutions; update lighting and safety features; provide surveying; perform environmental and historic archaeology studies; and assist with the development of a GIS database for a future Asset Management Program.
KS Associates is working with the Port Authority, ODOT, and subconsultants to complete the project on an accelerated schedule. The project is on track, and construction is scheduled to begin in August 2018 and to be completed in the spring of 2019. Field work and construction activities have been programmed around the port's busy daily shipping schedule to minimize disruption to port operations.
In 2016 and 2017, KS Associates provided a complete above-ground and below-water assessment of the CBT infrastructure. Having an in-depth understanding of existing site conditions, opportunities, and challenges is helping to propel the project forward.