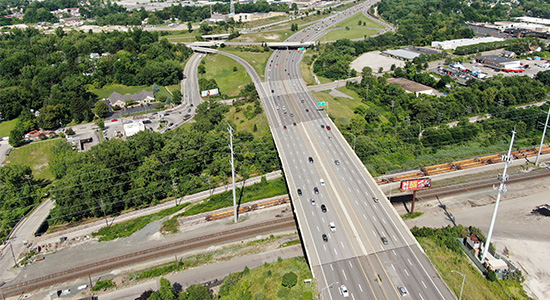 KS Associates was the Prime Consultant and provided engineering and surveying services for the CUY-IR-480 21.30 WB project for ODOT District 12. The project, currently under construction, will add capacity to and alleviate traffic congestion in the westbound lanes of IR-480. The nearly one-mile project is located from approximately Lee Road to SR-17 in the cities of Garfield Heights, Maple Heights, and Cleveland, Ohio.
KS Associates' scope of services included designing a re-configuration of this section of I-480 to reduce the width of three travel lanes and shoulders to accommodate an additional lane, andddressing impacts to the bridges over Broadway Avenue (SR 14), Norfolk Southern and WL&E Railroads, and Mill Creek. Shifting the lanes required replacement of wearing surfaces, bridge expansion joints, backwalls, the parapet, and the median barrier to meet current standards. With a shift in the roadway crown and drainage reconfiguration, the bridges also needed end frame steel repairs.
KS performed a topographic survey including drainage, all five bridges including the I-480 bridge over Norfolk Southern Railroad, and utility locations requiring coordinating with OUPS. The use of 3D laser scanning allowed surveyors to work in shoulders away from high-speed traffic, which improved safety and eliminated the need for lane closures.
KS oversaw subconsultants Patrick Engineering in the design of a Maintenance of Traffic (MOT) plan, and SM&E, Inc. for geotechnical services.
This project utilized Performance-Based Practical Design (PBPD), a philosophy that guided the design team in making decisions that balanced fiscal constraints, Right-of-Way, environment, capacity, and stakeholder input without sacrificing safety.
Construction is scheduled for completion in 2022. KS is also performing engineering services during construction.