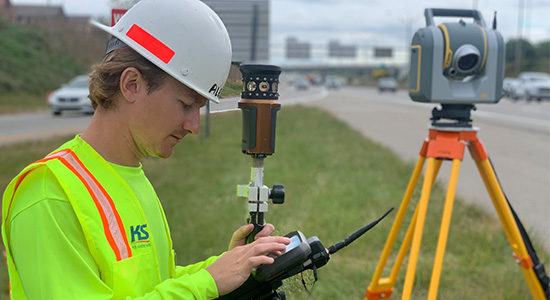 KS Associates is under contract with the Ohio Department of Transportation (ODOT) to provide surveying and Right-of-Way plan development services for assignments throughout Districts 3 and 12. The two-year task-order contract commenced in January 2023. Surveying services support the design of various initiatives including roadway safety, intersection signalization, noise walls, culvert, bridge, and slope stabilization projects.
One of the more significant assignments is Task Order No. 12-007, which calls for performing topographic surveys of three off ramps: the eastbound and westbound ramps of I-480 to Ridge Road in Brooklyn, and the I-90 eastbound ramp to E. 55th Street in Cleveland. Surveying is being performed for the design of pavement replacement projects. KS surveyors utilized 3D laser scanning to safely obtain survey data in high-traffic areas at all three locations.
In ODOT's selection documentation for the contact award, KS Associates received perfect scores for project management and staff. The documentation stated that KS has "a strong, experienced project manager accompanied by a capable staff; provided an excellent discussion of ORD/ProjectWise and quality control; and identified the ability to use 3D scanner/LiDAR technologies."
Chagrin Valley Engineering and O. R. Colan and Associates are subconsultants to KS Associates for approximately 40% of the task-order contract.